LITTLE NIGHTMARES II - TV edition [PS4]
Overview
Free next-gen upgrade for PlayStation 4 & Xbox One version owners.
PREORDER BONUS :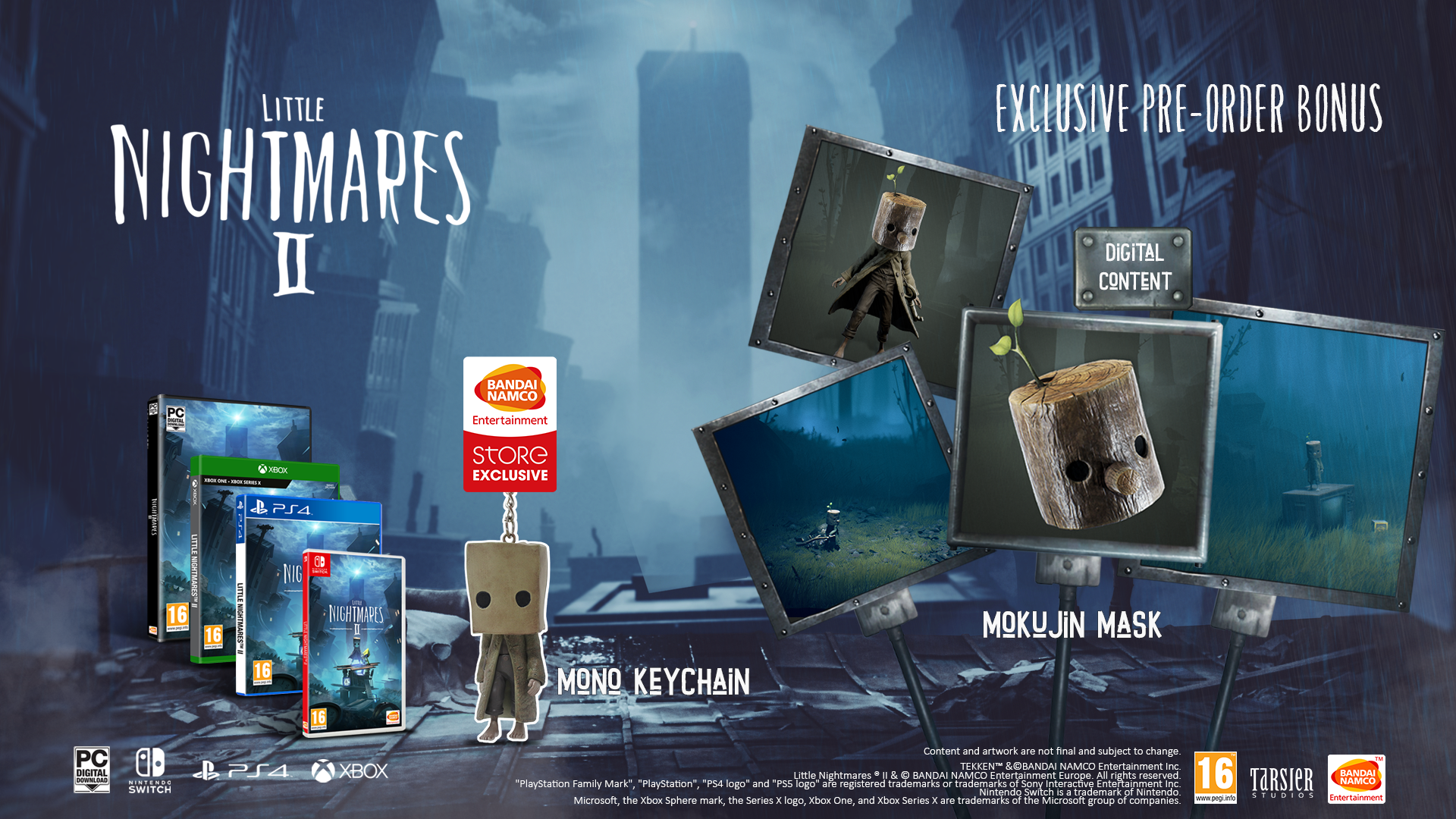 Little Nightmares II is a suspense-adventure game in which you play as Mono, a young boy trapped in a world that has been distorted by the humming transmission of a distant tower. With Six, the girl in a yellow raincoat, as his guide, Mono sets out to discover the dark secrets of The Signal Tower and save Six from her terrible fate; but their journey will not be straightforward as Mono and Six will face a gallery of new threats from the terrible residents of this world.
Will you dare to face this collection of new, little nightmares?
PLAY A DARK, THRILLING, SUSPENSE ADVENTURE 
A host of brand-new Residents lie in wait to haunt your steps and disturb your sleep. Outsmart the sadistic Teacher, survive the bloodthirsty Hunter and flee from many more terrifying characters, as Mono and Six journey through this world together.
DISCOVER A FANTASTICAL WORLD CORRUPTED BY THE SIGNAL TOWER
Escape a world that's rotten from the inside. Your journey will take you from creepy woodlands, to sinister schools, on your way to the dreadful Signal Tower to find the source of the evil that spreads through the TV screens of the world.
AWAKEN YOUR INNER CHILD TO SAVE SIX FROM THE DARKNESS
Six is fading from this world and her only hope is to guide Mono to the Signal Tower. In this world of nightmares, you are her only beacon of hope. Can you muster the courage to fend off your tormenters, and co-operate with Six to make sense of The Signal Tower?
Features
TV edition
TVs are spreading the evil transmission from the Signal Tower, but could their power be harnessed by Mono and Six? Find out with this Little Nightmares Collector's Edition.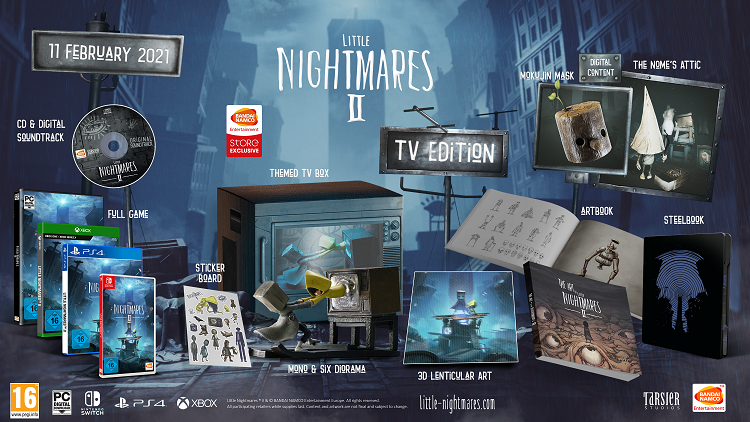 Little Nightmares II TV edition comes with the following physical items:
Collector's TV box
Case with standard game : Blu-ray disc on PS4 and Xbox One, Cartridge on Nintendo Switch, Digital Steam code on PC.
Escape diorama : Highly detailed figurine of Mono & Six travelling through the TVs
Little Nightmares II's Original Soundtrack : The full soundtrack on CD and digital download, composed by Tobias Lilja from Tarsier Studios.
Artbook - The Art of Little Nightmares II : Dive into the making of Little Nightmares II with this 56-page artbook full of sketches, artwork and design decision by the Tarsier Studios art team.
Collectible SteelBook®
Exclusive Little Nightmares II Stickers
Digital goodies included:
Access to the Nomes' secret room : Follow the Nomes to find this special in-game puzzle and unlock the Nomes' hat as a reward upon completion.
Game soundtrack
Digital Artbook
Digital Wallpapers and Avatars
Digital content to be downloaded on littlenightmares.com. Account creation is required.
CONTENT AND ARTWORK ARE NOT FINAL AND SUBJECT TO CHANGE
Little Nightmares™ & ©BANDAI NAMCO Entertainment Europe
More information
Type of Product
:
PlayStation 4
Audio: None
Subtitles: English, French, German, Spanish - castillan, Italian, Russian, Polish, Arabic