ELDEN RING - THE VINYL COLLECTION (LIMITED EDITION)
Overview
BANDAI NAMCO Entertainment and FromSoftware have collaborated once more to create this limited vinyl edition, which includes the complete soundtrack in the best audio quality! It has been specially mastered for vinyl, and the tracks will be pressed to an audiophile-quality standard.
The ELDEN RING orchestral themes will immerse you in ELDEN RING's world and let you relive the Shattering's most memorable battles.
The music was composed by Yuka Kitamura, Tsukasa Saitoh, Shoi Miyazawa, Yoshimi Kudo, and Tai Tomisawa, who actively took part in creating the music for Dark Souls and the soundtracks for other games by FromSoftware.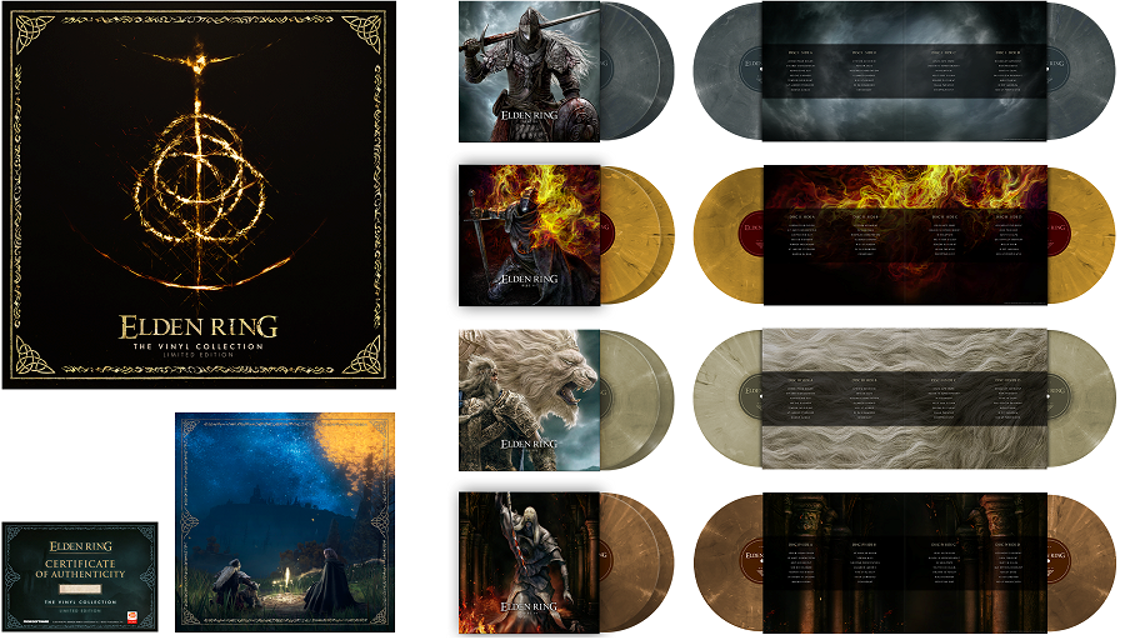 Features
This limited edition includes:

A premium-quality slipcase, numbered from 1 to 6,999
8 premium vinyls with galaxy or marble effects, containing the complete soundtrack
4 double gatefolds with a unique design on each
An art print (Size 300 × 300 mm — 11 ¾" × 11 ¾")
A numbered certificate of authenticity
This edition is only available on the BANDAI NAMCO Official Store.
Delivery will take place in summer 2022.
The Game:

The Golden Order has been broken. Rise, Tarnished, and be guided by grace to brandish the power of the Elden Ring and become an Elden Lord in the Lands Between.
ELDEN RING, developed by FromSoftware, Inc. and produced by BANDAI NAMCO Entertainment Inc., is a fantasy action RPG and FromSoftware's biggest game to date, set in a world full of mystery and peril.
It recently won many awards:

3D render — non-contractual images
ELDEN RING™ & ©BANDAI NAMCO Entertainment Inc. / ©2021 FromSoftware, Inc.