CAPTAIN TSUBASA - Legends Edition - Official jersey [PS4]
Overview
Captain Tsubasa is a manga masterpiece, globally beloved even now in 2020.
Captain Tsubasa: Rise of New Champions adds a refreshing look to the football genre with the exhilarating action and over-the-top shots that made the game famous. It features anime-style graphics and accessible gameplay while offering multiple game modes to keep football fans on the pitch and off the bench!
BUILD YOUR DREAM TEAM: Create your own characters with new skills and abilities and build your dream team!
4-PLAYER VERSUS: Decide who's the football legend amongst your friends with offline play versus up to 4 players!
ONLINE: Compete online to claim trophies and rewards!
TWO STORY MODES: Experience the events from the manga or become a part of Captain Tsubasa's world!
GRAPHICS: Discover the latest Captain Tsubasa game with toon shading and realistic effects!
ACTIONS: Master the simple controls to score goals while performing dream skills against opponents at high speed!
UNIQUE GAMEPLAY IN THE FOOTBALL GAME GENRE: Enjoy each unique character action by playing the game with 'Spirit Gauge', 'Skills' and 'Special Moves' assigned to each character!
Become a legend with this prestigious edition exclusive to our e-commerce website. You'll find it nowhere else!
This edition includes a jersey and a premium football table. The latter was designed by René Pierre, one of the world's legendary football table manufacturers. This high-end football table was exclusively designed and manufactured by René Pierre at the main factory in Chalon-sur-Saône, France. The fully branded line is the result of a close collaboration between Bandai Namco Entertainment Europe and René Pierre Headquarters. Both teams are driven by their passion for football and the Captain Tsubasa universe!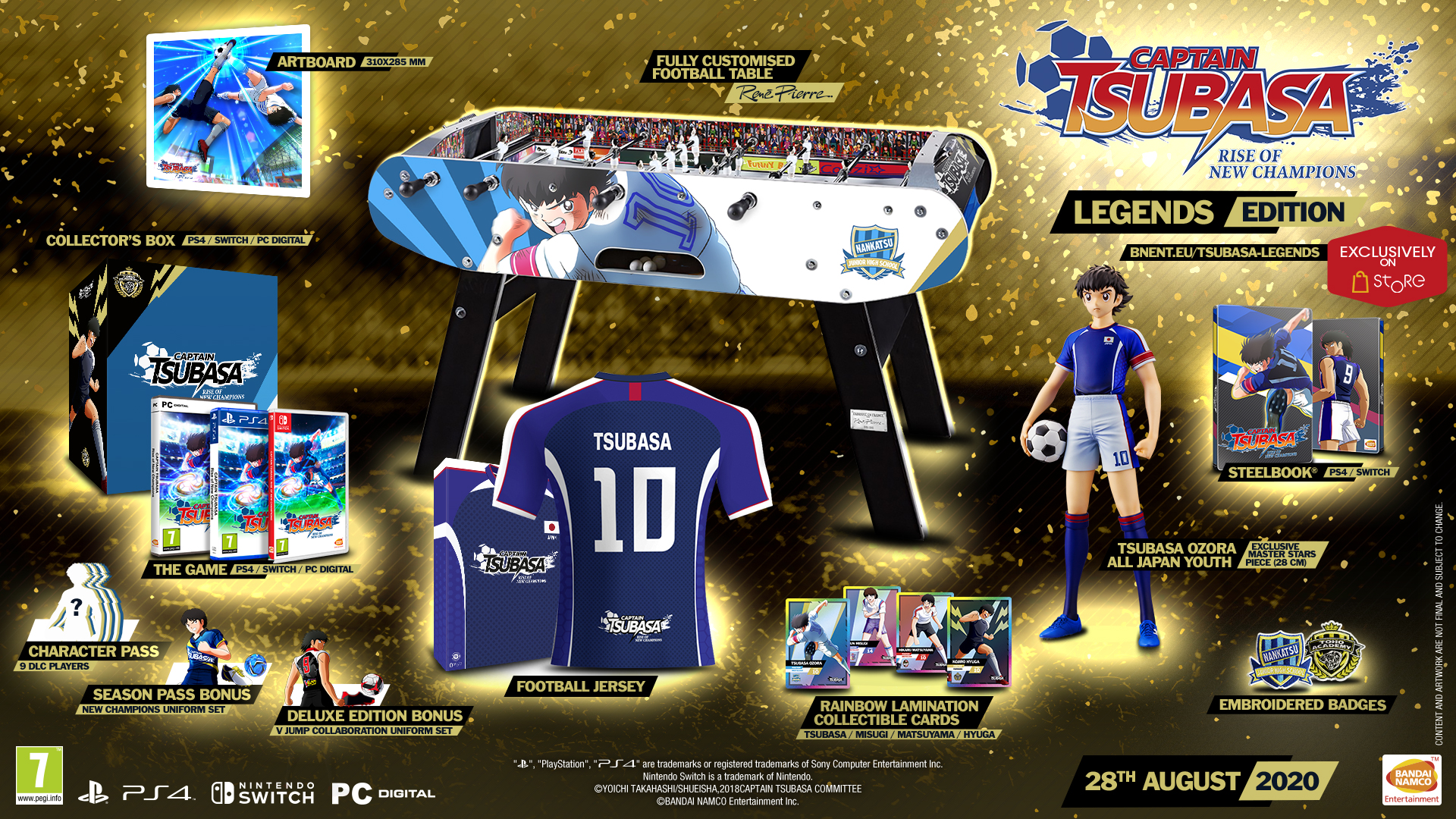 This Legends Edition includes:
- FULLY CUSTOMISED FOOTBALL TABLE - RENE PIERRE
- FOOTBALL JERSEY
- ARTBOARD (285X310 MM)
- THE GAME
- CHARACTER PASS: 9 DLC PLAYERS
- SEASON PASS BONUS: NEW CHAMPIONS UNIFORM SET
- DELUXE EDITION BONUS: V JUMP COLLABORATION UNIFORM SET
- 4 RAINBOW LAMINATION COLLECTIBLES CARDS
- FIGURINE: EXCLUSIVE MASTER STARS PIECE (28CM) - TSUBASA OZORA ALL JAPAN YOUTH
- STEELBOOK
- EMBROIDERED BADGES
- COLLECTOR'S BOX
EXCLUSIVELY ON STORE
FOOTBALL JERSEY
100% polyester with two different weaves / two different weaving effects
Woven patch on left side
Integrated printing
Woven collar
Straight cut
FULLY CUSTOMISED FOOTBALL TABLE - RENE PIERRE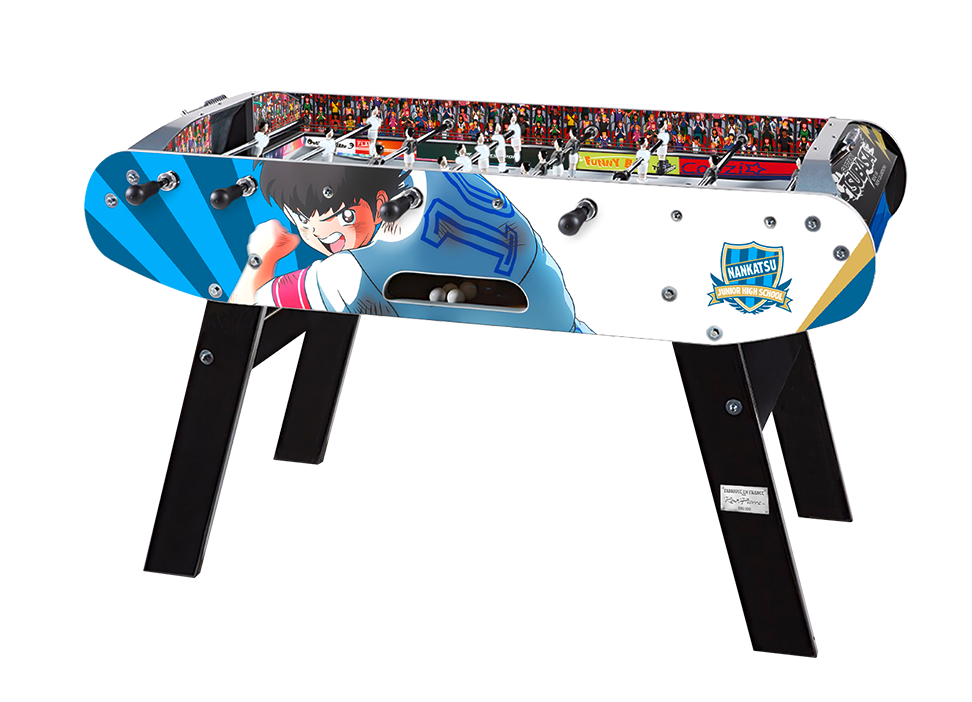 • EXTERNAL DIMENSIONS: 155x98x91cm
• WEIGHT: 72kg
• PACKAGE (LxWxH): 57x104x43cm
• MODEL: Black Match II
• 'Café'-type football table. Furnished with legs (thickness of 40mm) with reinforcing crosspieces.
Metal footballers screwed onto telescopic steel bars with a chrome finish (diameter of 14mm). Metal sliding rods with tempered steel shock absorbers. ABS handles. Ball returner to pitch centre. Gerflex game surface with corners. Comes with two balls.
• Guarantee:
1 year for the game bars / 3 years for the structure / 10 years for the footballers (unbreakable and foolproof).
CAPTAIN TSUBASA RISE OF NEW CHAMPIONS Model
- Item is numbered with an engraved metal plaque affixed to the table
- Personalisation:
Outfits of footballers
Goal-side panels
Reverse side
Front side
Short-side joint covers
Long-side joint covers
Outward-facing upper goal panel
Outward-facing lower goal panel
• MADE IN FRANCE
Relive your passion for football and the legend of Captain Tsubasa with the official Legends Edition!
Limited availability

CONTENT AND ARTWORK ARE NOT FINAL AND SUBJECT TO CHANGE

©YOICHI TAKAHASHI/SHUEISHA,2018CAPTAIN TSUBASA COMMITTEE
©BANDAI NAMCO Entertainment Inc.
More information
Type of Product
:
PlayStation 4